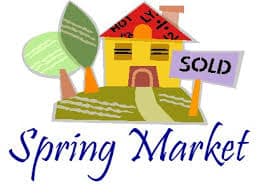 With the spring market looming, rising interest rates and continued high home prices are creating some friction to the process of buying a home.
While home pricing is expected to continue to rise this year, expectations are that the pace will drop, but not to the level needed to sway the seller's advantage to the buyer. The main factor affecting pricing is the expected increase in mortgage interest rates, which will impact the amount of a mortgage buyers can qualify for.
Mortgage rates are trending up already. The average rate on a 30-year fixed-rate mortgage is at the highest level in 3 years, according to Freddie Mac. It is not that rates will not still be attractive historically speaking, but they will be higher than the sub 3% rates borrowers had seen over the last couple of years.
Even modest increases in the interest rates can translate into monthly mortgage payments increasing by $100 or more. Even with the rates climbing, experts still recommend that buyers in the market move quickly to avoid even further increases that are predicted to be coming down the pike later this year.
One segment of the market that might wait things out a bit to see if the home pricing boom cools off, is millennial buyers or first-time buyers who comprise the fastest group of homebuyers in the market.  Even though rates might bump payments up a bit, the thought of a less competitive seller's market later might be worth the risk to some. The goal of this group would be a larger inventory of homes available, including more affordable options in urban areas.
One take away from the trends and predictions discussed is that buyers need reliable, accurate mortgage information more than ever once they engage with an agent to begin their property search. Small fluctuations in rates and home prices can dramatically alter the payment range a buyer might qualify for.  In addition, buyers can benefit from learning about special finance options available on certain properties that can make a home more affordable.  RatePlug, the ONLY MLS integrated marketing tool, is the perfect solution for loan officers looking to work with Agents to provide sound lending advice to their active buyers.
RatePlug is made available to real estate agents through their local MLS as a benefit of their membership.  Local mortgage loan officers wishing to partner with their Agents enroll in RatePlug and can then partner with multiple Agents in the market. MLS organizations, lenders, real estate brokerages and agents interested in RatePlug can learn more at www.RatePlug.com or call toll-free 1-877-710-0808.