The ever changing regulatory environment within the real estate industry has dramatically altered the way real estate and mortgage professionals evaluate new products and technologies. RatePlug continues to grow our market footprint across the Country, supporting over 700,000 agents in over 70 of the largest MLS organizations. Our list of participating banks, credit unions and lending companies now exceeds 800 entities. Each of these lending companies has evaluated and approved the RatePlug Program as compliant. In addition, RatePlug has enlisted the services of K&L Gates and Mayer Brown, the nations leading compliance experts to validate RatePlug's adherence to all regulatory guidelines and requirements.
Understanding RatePlug Compliance:
We do not gather or retain any consumer information
RESPA-TILA: RatePlug contracts with the local MLS organization to add RatePlug capability to the core services provided to their Agent members funded by member dues. The lender pays RatePlug to be displayed within the system. No fees are being paid by a Lender(s) on behalf of agents and there is no mention or criteria for leads to be contingent on affiliation. The real estate agent can display multiple lenders as well.
FTC MAP: The FTC implemented requirements regarding Mortgage advertising. The Mortgage Acts and Practices (MAP) regulations impact ALL real estate professionals offering information about mortgages to clients or customers. RatePlug has taken the following steps to protect the Broker/Agents:
Record Retention – The regulations specify that real estate professionals are required to save all mortgage related communications for up to 6 years (RatePlug exceeds the requirement by retaining all required communications for 10 years) from the date that the communication was made available to the consumer. RatePlug archives every lender display created on property reports as well as every property flyer generated through the RatePlug system for retrieval at a later date if necessary.
Disclaimer language– RatePlug has adopted the National Association of Realtor's recommended disclaimer and has incorporated said language into all flyers generated through RatePlug. This disclaimer is simple and clearly states the Broker/Agent is not a mortgage lender and directs the customer to contact the lender directly with mortgage related inquiries.
REG Z: The foundation of RatePlug was based on the aggregation and display of accurate rates, APR's, and disclaimers within our presentation layer. The participating lender inputs and controls all the rate and program information displayed. RatePlug's development team has painstakingly made every effort to ensure that all REG Z guidelines are met and or exceeded. Kirkpatrick & Lockhart have orally expressed that the RatePlug Program is compliant with REG Z guidelines. In addition, we receive scrutiny from each lender that participates in our Program. We have national approval from among the largest lenders. Each lender may further adjust all disclosure information per their standard.
TRID: RatePlug adds TRID payment tables to each display a consumer may view. (sample below)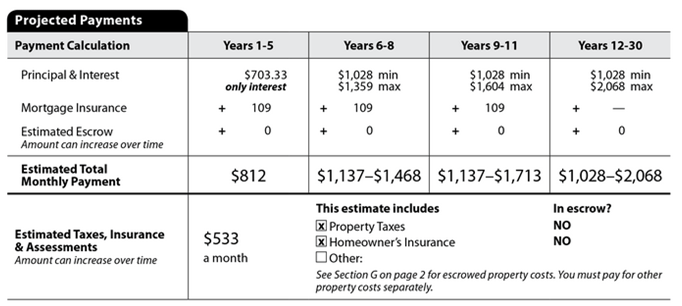 Ongoing Diligence:
To ensure RatePlug compliance, RatePlug's legal advisers and a vast network of national lenders ensure that we are aware of the latest regulatory rulings, and our team works diligently with these entities to adjust our RatePlug Compliance Program to seamlessly implement any changes that would impact our subscribers.
Contact us and request the complete overview of Rateplug's RESPA'S compliance.