Agents, this is included with your MLS membership* – no credit card needed
When you connect your originators to your MLS listings, you help the home buyer better understand affordability – that means better qualified buyers that close faster!
*Lenders pay a license fee to be displayed
New Virtual Property Flyer Feature
Keep Vital Information Flowing to Buyers During Stay-at-Home Period

The new Virtual Flyer is ideal for an Agent's virtual tours and open house events. This online tool keeps fresh property and payment information flowing to homebuyers. The listing Agent will automatically receive a link to the flyer which they can send to prospective buyers. Other features include:
Easy Export to Social Media – Also SEO friendly link.
Share with potential Buyers for Virtual, Streaming or in-person Open House
Use with Showings to help buyers understands special finance options available.
All information on the Flyer is dynamic and updated in Real-Time.
Buyer can interact directly with Agent or Loan Officer.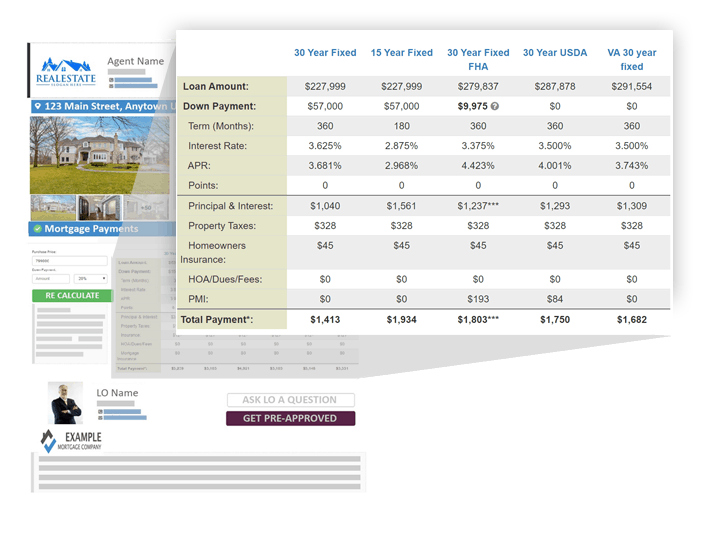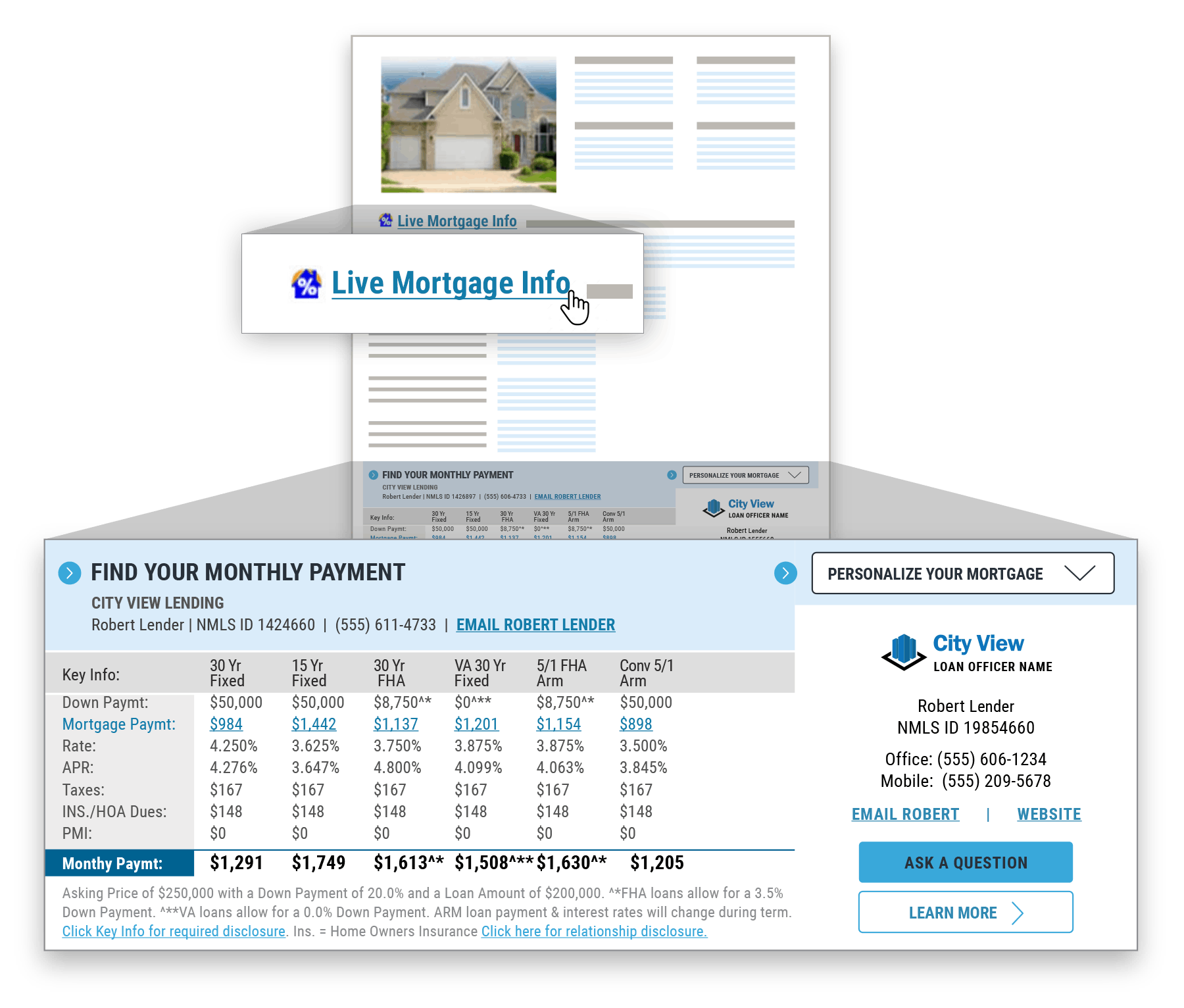 Qualify Buyers Faster
With RatePlug, the difference is affordability. When agents invite lenders to display their rates on MLS listings, the result is the 4 bedroom 2.5 bath home in a nice area isn't only $225,000, it's $1,375.87 per month including principal, interest, taxes, and HOA.
When home buyers have an understanding of monthly affordability, they are more likely to qualify for a loan.
In fact, agents who use RatePlug close 15% faster than agents who don't.
When You Display Affordability On Your MLS Listings, Great Things Happen…
Passive buyers become active buyers. When you connect your originators to your MLS listings, you help the home buyer better understand affordability.
More time on page. When RatePlug is embedded in your listings, homebuyers spend more time viewing your property listings. That means better informed buyers!
Engage active buyers. RatePlug connects the agent and originator to the MLS and the home buyer who is ready to buy – not just browsing.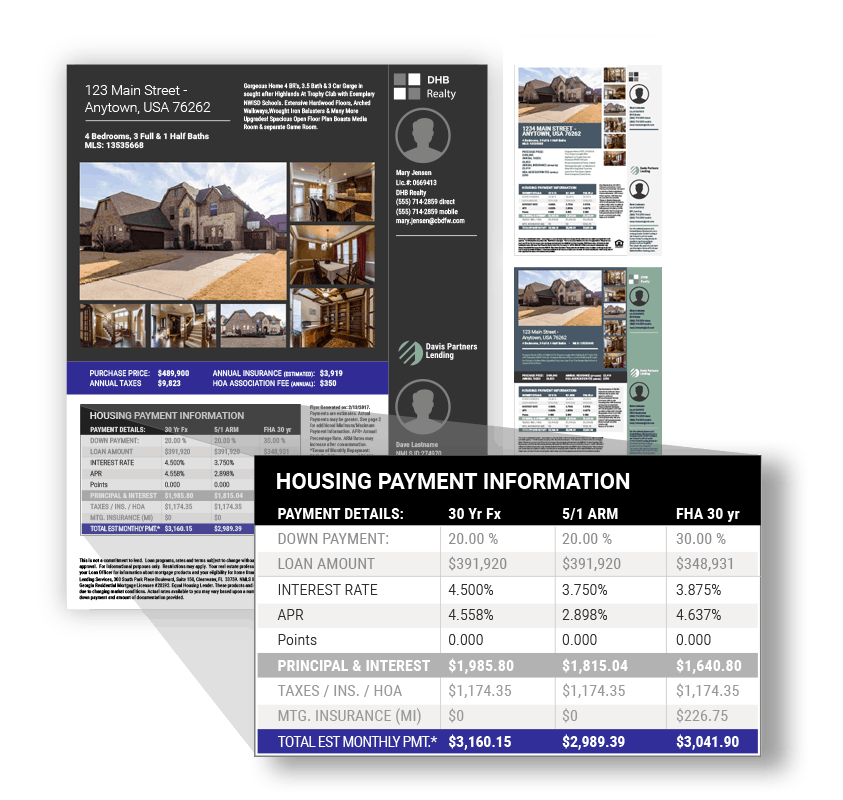 Why Pay for a Separate Flyer System?
RatePlug's property flyer system is included with your MLS membership.
Generate custom property flyers right from the MLS with your lenders' rates and products displayed.
Multiple flyer layouts and colors to choose from.
Monthly affordability embedded in flyers (includes PITI and HOA).
The system also streamlines social media posts with property specific affordability calculated for every MLS listing.
Lender Support at Your Fingertips
Use RatePlug's agent dashboard to…
Request a flyer from your lender.
Post your listings with mortgage information in social media.
View special financing options available for your properties.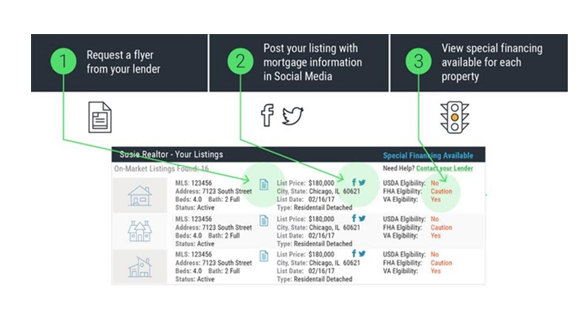 ---
What Are You Waiting For?
RatePlug is included with your MLS membership – *Lenders pay a fee to be displayed
Far too many closings fail due to financing.  Protect your time and effort by engaging a trusted lender that uses RatePlug to help you close faster.
Unlike typical mortage payment calculators, RatePlug leverages the full property detail available within the MLS to calculate monthly affordability. This monthly cost to own includes the full PITI, HOA, and other costs based upon multiple financing options.
When the homebuyers say "we can afford that" – they are more likely to make an offer.