Taxes, HOA & Insurance are all part of the total cost of home ownership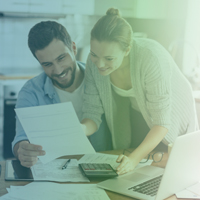 Most consumers think about their spending on a monthly basis…My car payment is $240 per month, my mobile phone costs me $99 per month and my mortgage cost $1,400 per month.
What are you paying when you are paying your Mortgage? What is the total cost of home ownership? At the minimum you are paying the principle and interest. But what about paying for Home Owners Insurance, Taxes and Home Owners Dues/Assessments? If you have a mortgage then the lender requires you to purchase Home Owners Insurance. Your local municipality requires that you pay your property taxes and if you live in community that is part of a Home Owners Association then you are required to pay HOA dues.
When you look at the total costs of home ownership then you need to factor in these additional items as part of your budget. Going back to my original point that most consumers think monthly, it might be difficult to think monthly when we pay our property taxes and insurance annually and our HOA fees quarterly and if we are thinking of buying a home these additional items might not always be available or easy to find.
At RatePlug we created technology and tools that uses lender's live rate information to give you an accurate principle and interest payment along with property taxes, HOA Dues and insurance estimates to figure out the monthly total cost of home ownership. This allows homebuyers to find properties they can truly afford by looking at the big picture of all of the necessary costs involved.
  Lenders Subscribe
About RatePlug
Founded in 2003, RatePlug has become the nation's leading mortgage technology integrated into the MLS and is now available to 60 percent of all real estate agents and brokers in the U.S. — that's more than 705,000 Realtors? nationwide. RatePlug educates buyers about affordability by providing crucial mortgage information at the beginning of their home search and helps connect them to local agents and loan officers. Homebuyers spend up to 6 minutes more viewing an MLS listing featuring RatePlug than one without. For loan officers, NAR research shows that 74% of homebuyers use the lender referred to by their REALTOR?. Most importantly, agents using RatePlug sell homes faster, experiencing 14% fewer Days on Market (from list to contract date) than agents who do not use RatePlug. Lenders, loan officers, real estate brokerages, agents and MLSs can learn more about Naperville, IL-based RatePlug at www.RatePlug.com.