When you enroll with RatePlug, you can create custom real estate property flyers – no credit card needed – as part of your current MLS membership.
Imagine being able pre-qualify new buyers directly from the MLS…before you spend time showing them properties they can't afford.
With RatePlug's affordability information embedded in your MLS listings, the result is the 4 bedroom 2.5 bath home in a nice area isn't only $225,000, it's $1,375.87 per month including principal, interest, taxes, and HOA.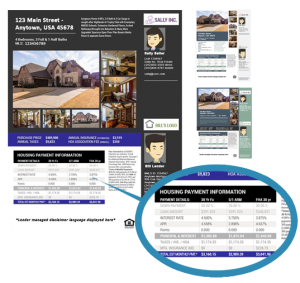 When your buyers say: "I can afford that" you know you have a qualified buyer.
While it is easy to find plenty of free property flyer templates for Microsoft Word, creating one from scratch takes time and money as well as an understanding of compliance issues and disclosures.
With RatePlug's property flyer systems, you can quickly generate property flyers that include the rates and products from your trusted lenders as well as all necessary disclosures and compliance related language.
Each of RatePlug's free property flyer templates are easy to edit and free to RatePlug agent members.
You can use the template to create flyers to show at listing appointments and tell prospective buyers that you understand what matters to them most: affordability.
In addition to custom real estate property flyers included as part of your MLS membership, what are the other benefits of RatePlug?
Close faster! Agents see a 15% decrease in time from "contact to contract."
Passive buyers become active buyers. When you connect your originators to your MLS listings, you help the home-buyer better understand affordability.
More time on ​listings. When RatePlug is embedded in your listings, home-buyers spend more time viewing your property listings. That means better informed buyers!
Engage active buyers. RatePlug connects the agent and originator to the MLS and the home buyer who's is ready to buy – not just browsing.
Easy compliance. All interactions between lenders and agents are archived for 10 years. RatePlug is fully FTC-MAP, TRID, RESPA, and TILA compliant.
Get started today with RatePlug and stop paying for a separate property flyer system.