November 12, 2018 (Chicago, IL) RatePlug LLC., – the leading mortgage marketing platform – today announced the availability of new open house flyer (real estate property flyer templates) for agents through the RatePlug Agent Dashboard – now available in more than 70 MLS networks. The RatePlug Agent Dashboard is available at no-additional cost to agents as part of their current MLS membership. A list of participating MLS networks is available here.
Unlike downloadable property flyers and brochures which are time consuming to create and create a number of compliance risks, the new RatePlug real estate property flyer templates are generated dynamically from each MLS listing data in less than a minute.
Because the dynamic open house flyer feature is included as part of an agent's MLS membership, Brad Springer, CEO of RatePlug, believes "we can save our agents money because they no longer need to pay for a separate marketing flyer service."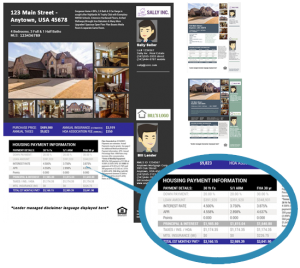 In 2016 alone, RatePlug displayed more than 115 million MLS property listings containing interactive mortgage rates and products, customized to each listing.  When agents invite lenders to display their rates on MLS listed properties, access to dynamic "affordability calculators" help home buyers better understand what they can afford.The result is the 4 bedroom 2.5 bath home in a nice area isn't only $225,000, it's $1,375.87 per month including principal, interest, taxes, and HOA. When home buyers have an understanding of monthly affordability, they are more likely to qualify for a loan.
Springer added that real estate agents like being able to showcase local area lenders that they work with. Each of RatePlug's property flyer templates can be modified to include lender-specific mortgage rate and product information for each listing. The payment information is based on up to date interest rates from an agent's lender of choice and includes property taxes, assessments, and homeowner's insurance estimations.
In fact, a recent RatePlug study found that agents who use RatePlug close 15% faster than agents who don't.
Other features of the new RatePlug Agent Dashboard include:
FLYERS

Property listings and flyers with multiple flyer layouts and color options.
Monthly affordability embedded in flyers (includes PITI and HOA)
Social media posting built into flyers

CREATIVE FINANCING RESEARCH

The new RatePlug Agent Dashboard also helps agents identify which properties qualify for FHA, VA, and USDA programs – to better attract first time and millennial home buyers.
"RatePlug's agent dashboard displays real-time housing payment information within MLS property listings to better qualify home buyers and close faster," said Springer. "Adding a dynamic property flyer to the MLS also cements the role of the MLS with agents."