An open house flyer and other custom real estate property listing flyers help you promote your listing and rates to prospective homebuyers. Before you download that free template from the internet, fill in the blanks, and print it out with the intention of passing it off at your next open-house, keep this in mind:
When you choose to download a free real estate template,
you open yourself up to a number of compliance risks.
While it is easy to find plenty of free real estate property flyer templates available for download, creating one from scratch takes time and money as well as an understanding of compliance issues and disclosures. It's easy to lose track of what is and isn't compliant under the various rules and regulations when you're simply filling in the blanks on a free property flyer template. Make sure you verify that the information downloaded and entered complies fully.
When it comes to real estate flyer compliance, lenders and real estate agents need to be especially be aware of RESPA Section 8(a) and (b). Section 8 explicitly states:
RESPA prohibits a person from giving or accepting any thing of value for referrals of settlement service business related to a federally related mortgage loan. It also prohibits a person from giving or accepting any part of a charge for services that are not performed. These are also known as kickbacks, fee-splitting and unearned fees.
Violations of Section 8 are subject to criminal and civil penalties. According to HUD, a person who violates Section 8 may be fined up to $10,000 and imprisoned up to one year.  
Open house flyers – Real Estate Listing Flyers Created from the MLS
For lenders interested in more effective mortgage marketing, by partnering with your trusted real estate agents, you can dynamically build a real estate property flyer straight from the MLS with RatePlug.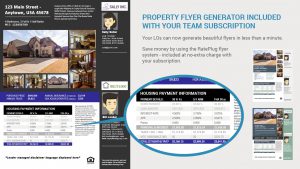 With RatePlug's 100% RESPA/TILA-compliant property flyer system, your real Estate Agents can request a beautiful open house flyer by using the RatePlug Agent Dashboard.  
RatePlug is an award winning technology company that connects real estate agents, lenders, and homebuyers on the MLS to simplify the property selection process by providing property-specific affordability calculations.
With the RatePlug Property Flyer System, included at no extra cost as part of an Agent's MLS membership, agents can request property flyers that include your interactive rates rates and products customized to the individual property. The property flyer system automatically includes all disclosures and compliance-related language and also includes fully-compliant archival.
RatePlug's Property Flyer system also provides:
Multiple open house flyer layouts and colors to choose from.
Monthly payment affordability in flyers (includes PITI and HOA)
Automated social media posts with property specific affordability calculated for every MLS listing
Live, interactive display of your lenders' rates and products (only the lenders you choose)
For more information on RatePlug's mortgage marketing platform and property flyer system, visit the lender information page.