Six Tips For LOs to Improve Their Mortgage Marketing and Selling Effectiveness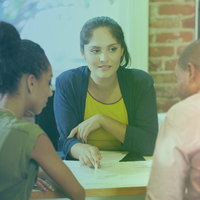 Every loan originator has one obvious, common goal: growing leads and their business. But not every LO has the right strategy to turn that goal into a reality.
That's why, when proactively thinking about growing your customer base, or generating leads, you need to think creatively about how you market yourself.
LO Mortgage Sales Tip No. 1: Boost Leads Through Better Marketing
In today's mortgage market, LOs need the 'x-factor' to stand out in the crowd.
Are you still relying on stagnant, manual emails, generic mass-mailings or even cold calls? If so, stop what you're doing and invest in mortgage marketing automation tools.
From improving referrals from real estate agents or building a simple list for staying in touch with your customers, you can save time and money by changing how you nurture potential leads. Make sure your email campaigns have an obvious call to action (CTA), and ensure you're nurturing your customers through the sales cycle. If not, you're missing huge opportunities to grow your customer base and increase your profits.
LO Mortgage Sales Tip No 2: Be Mobile Friendly and Responsive
Investing in solutions that market your services in a mobile-friendly, responsive design can make or break the customer relationship.
A good portion of your email campaigns is being read on a mobile device as are your website and marketing materials. If any of those are clunky or difficult to read on a mobile device, that's a lost opportunity that can have long-term impact on your revenue.
LO Mortgage Sales Tip No 3: Stay Engaged, and Be Human
As explained by RatePlug CEO Brad Springer: "Relationships are paramount for the mortgage business because we are dealing with a big purchase – and your home buyers need to trust you as a human being.'
Regardless of the technology you embrace as an LO, you can't forget to put the human connection first. As Springer explains, the need to carefully and thoughtfully shepherd your customers through the loan process will always be needed, regardless of technology advancements.
"People need not only the intuitive expertise of a professional real estate agent, but they also need the professional experience of a loan officer to guide them through today's mortgage maze," Springer said.
LO Mortgage Sales Tip No 4: Publish Your Rates on your MLS
Publishing your rates on MLS listings puts you in the room with the real estate agent at every showing. RatePlug displays real-time housing payment information within MLS property listings. With the addition of special finance indicators, the value of RatePlug enhances real estate professionals and the homebuyers' ability to search for properties based upon affordability.
"Numbers are powerful. They are even more powerful with context. It's one thing to say a house costs $250,000 but that means very little to a consumer in terms of the real costs," said Springer.  "But when we say it costs $1,375 a month, everything changes. That's a number people can understand. More importantly, it's a number that allows them to take action based on what they can afford. That's the insight that allows RatePlug to help homebuyers, residential real estate agents and lenders. When you put real numbers in front of buyers and connect those numbers to your loan products and rates, your business grows."
LO Mortgage Sales Tip No 5: Turn Customers Into Brand Ambassadors
Particularly in the mortgage business, customer referrals matter. You can have the flashiest brand with the catchiest slogans on the market, but without testimonials from actual customers, your outreach efforts will fall flat.
Promoting your success cases, and instances of customer delight can be one sure way for LOs to prove they're putting the customer first during the loan process. Providing real-life examples of how you make the process easier can go a long way in securing new leads. It can also help you secure more real estate agent referrals.
LO Mortgage Tip No 6: Don't Forget the Follow Up
After you've helped your clients through the loan process, you're not done with the nurture cycle. To drive more referrals, and turn those customers into repeat clients, you'll want to stay connected with that customer beyond the initial loan process.
Whether it's a thank you note, housewarming gift, email or call after the loan process is complete, the customer wants to be reassured they made the right decision. A simple gesture of reaching out to your customer matters can pay huge dividends with referrals, plus it also increases the chances they'll come back to you for another loan, or when they need to refinance that mortgage.