There is no doubt that a custom open house flyer (also known as real estate property flyers) will help you promote your listings to buyers. In fact, custom real estate property flyers are an essential part of promoting your rates through trusted agents. However, spending time with desktop publishing equipment takes time – and a good eye for design.
That's why RatePlug now offers multiple templates for custom real estate property flyers. When your agent needs a flyer, simply generate an open house flyer straight from the MLS. All necessary disclosures and compliance language is automatically generated for you. In just a minute, you'll have a professionally designed flyer that will pass muster with your compliance department.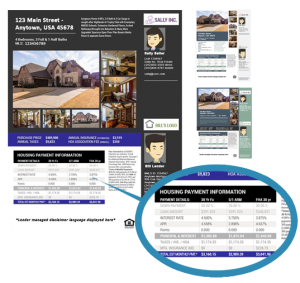 When you want to highlight a property's price, photos, top features and more, you qualify buyers faster. With RatePlug's affordability information on your MLS listings and flyers, the difference is affordability.  The result is the 4 bedroom 2.5 bath home in a nice area isn't only $225,000, it's $1,375.87 per month including principal, interest, taxes, and HOA.
RatePlug also allows you to insert affordability information right into the flyer.
When you display affordability on your MLS listings, great things happen…
Close faster! Agents see a 15% decrease in time from "contact to contract."
Passive buyers become active buyers. When you connect your originators to your MLS listings, you help the home buyer better understand affordability.
More time on page. When RatePlug is embedded in your listings, homebuyers spend more time viewing your property listings. That means better informed buyers!
Engage active buyers. RatePlug connects the agent and originator to the MLS and the home buyer who's is ready to buy – not just browsing.
More control. Brokers can display their affiliated Lender(s) and/or allow Agents to choose their own lending partners.
With RatePlug, each template is easy to customize and edit. Your photos, property details, and contact information is pulled directly from the MLS. You can even add your real estate company logo. Stop worrying about page layout, font selection or photo scaling. Even better, for agents, RatePlug is included as part of your MLS membership – no credit card is needed to sign-up and stop paying for a separate property flyer system.