Improving Agent Co-Marketing ROI with RatePlugs Co-Marketing Property Flyers and Compliance with RESPA-TILA and FTC MAP?
When it comes to agent co-marketing with real estate flyers and brochures, it's best not to cut corners. While there are several free and downloadable templates for flyers and brochures on the market, many fail to meet regulation standards and compliance.
RatePlug, however, uses a dynamic system that incorporates pricing accuracy, record retention, disclaimer language, and adheres to REG Z guidelines.
Compliance language is crucial when it comes to real estate flyer templates. When using downloadable property flyer templates and brochures, compliance language can become compromised resulting in inaccuracies and loss of sales. RatePlug, however, uses open house flyers for real estate agents created directly from MLS listing data in less than a minute, included with your MLS membership.
Creating your own real estate flyer can be time consuming. Factors such as design and compliance language can be arduous, leading many realtors to download free property flyer templates. Using RatePlug's dynamic mortgage marketing system, guesswork is eliminated and pricing accuracy is assured. The time savings alone improves co-marketing ROI.
In fact, realtors who have used the RatePlug system close faster and agents see a decrease in time from "contract to contract". Best of all, prospective buyers can understand what houses fit their budget within their ideal neighborhood, leading toward satisfaction for both parties.
Using our innovative software system, you can generate a custom flyer with your rates and products customized to each of your agent's listings. Real estate flyers are easy to create and edit and emphasize affordability.  
Treading Carefully – Co-Marketing ROI, Compliance and Growing your Agent Footprint
Any LO worried about RESPA compliance, especially after the recent Zillow news, should know that the world will not stop revolving. You still need to grow referrals from brokers and agents.  
Being current and compliant with RESPA-TILA and FTC MAP is a great way to initiate a new relationship with agents.
For LOs to properly convey why an agent should do business with them, they need to show agents a clear path to closed transactions (AKA: Why they are worth doing business with). This means delivering concise proposals with compelling evidence as to how the LO-broker and or  partnership would be worth entering.
Convincing any potential customer to make a change can pose an obvious challenge: What motivates any broker or agent to switch from the lenders they are already working with to use your services instead?
To start, ensuring you maintain strong connections with other key players in the real estate industry helps increase your chances of client referral. Because potential home-buyers need to enlist the help of a broker, loan originator AND agent to make the deal complete, it's important to leverage the power of connections within this industry.
But to do so, that means giving some assurance they will see some sort of accelerated Return on the Relationship (ROR). This brings us to the next opportunity for LOs to grow their footprint.
Co-Marketing ROI – Improve Agent Relationships with RatePlug
For LOs in RatePlug's MLS footprint, there's one better way to leverage those connections – show your agents a glimpse into their selling potential by leveraging RatePlug's homebuyer technology that their MLS provides for them. Because RatePlug provides realtors and their connected mortgage lenders with technology that empowers home buying, it creates and maintains the connection necessary for LOs to position themselves above the average originator in the market.
Executive Synopsis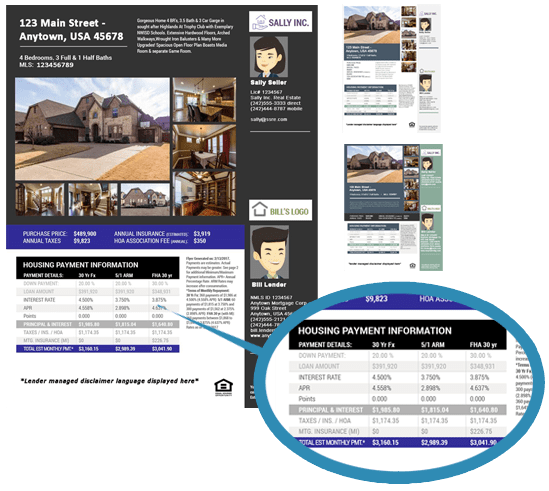 Title
How do I improve agent co-marketing ROI and remain compliant?
Summary
How to improve real estate agent co-marketing ROI with RatePlug's RESPA-TILA compliant mortgage marketing platform and open house property flyer system
Author
Company
Logo