Close Faster – How Agents Can Gain An Edge In A Competitive Field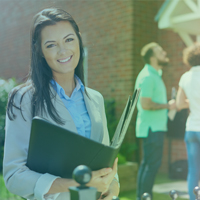 Although the real estate industry is changing rapidly, there is still one fact that rings true in this ever-competitive market: home buyers stay local when interacting with a real estate agent. This simple fact helps agents close faster.
Data shows that despite the fact that 90% of homebuyers use online sites to find a home, 87% still engage with a local real estate agent for the actual buying stage. That trend is expected to continue, according to the National Association of Realtors.  The data clearly reveals an important distinction, the difference between shopping for a home and buying a home.
"The theories that an abundance of property listing information available instantly to anyone with access to the internet would change the value of engaging with a local agent have not come to fruition as forecasted. And it appears that the local expertise, guidance, and support that an agent can offer to a homebuyer will continue to be the greatest and most desired value," said RatePlug CEO Brad Springer.
That's why agents need to remember, above all else, to be customer centric. This leads us to our first tip.
To Close Faster, Merge Technology with Human Interaction
While this point may seem obvious, the emergence of new technologies into the market has challenged agents with determining how much technology they should actually rely on.
After all, technology is not the silver-bullet solution to marketing yourself as an agent. Human interaction is still critical for securing and maintaining a strong customer base.
"That's one thing about the real estate business you'll probably never see in a television commercial. Most real estate deals are not easy, there seems to be something that happens that needs the skill of an agent, a loan officer or both to get things fixed so the deal can close," Springer said.
"It still takes people to power the real estate business because the trust a home buyer has in an agent and a loan officer makes a transaction work," he said.
Sure, technology makes it easier for a potential home-buyer to find a listing and connect with an agent, but that technology only gets the buyer in the door. It's up to the agent to seal the deal on their own merit.
Eliminate Risk, Close Faster When You Stay Mortgage Advertising Compliant
Enlisting the assistance of a service like RatePlug can ensure you are staying compliant with industry regulations. In fact, over 175,000 agents and their lending partners rely on RatePlug to keep them compliant when sharing property and lending information with their clients.
While loan originators are most commonly thought of in when it comes to mortgage advertising compliance, these requirements also apply to the agent involved in the purchase. RatePlug provides agents and their mortgage lenders with marketing and technology solutions to inform and empower potential home buyers, but it also helps those agents remain compliant with the right records.
So how can agents stay compliant? Ensure your records are in order. Per mortgage industry regulations, every piece of mortgage advertising regardless of how it is distributed (email/social media/paper) needs to be retrievable for a minimum of two years. That includes anything distributed by the agent, too.
Keep Clients Focused
While you don't want to be known as a pushy agent, one key tactic in this busy real estate market is to not overwhelm your clients with too many options. As noted in a Realtor Mag article about how to speed up closings, one tip is to "urge clients to narrow their options."
Narrowing down a list to what the home buyer is actually after will help them choose a property faster and lessen the chance that they delay their property purchase. Showing clients too many options can be overwhelming and can complicate the buying process. This also applies to showing clients properties that aren't within their budget — it's not worth wasting anyone's time.
Available at no cost to agents, one affordability tool to leverage is RatePlug's interactive, real-time loan payment data that's integrated into Real Estate MLS Systems. By providing potential home-buyers with this live mortgage app with property listings, you're more likely to get that buyer to the contract stage faster.