The top 4 reasons a mortgage gets denied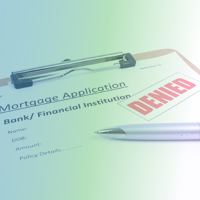 If you're thinking of buying a home, step one is to obtain financing. And, for the vast majority of us, that means getting pre-approved for a loan and understanding what size loan you might be eligible for, aka the most realistic price range for your new home. Tools such as RatePlug's can help buyers, lenders and agents better understand the affordability of a property. But getting pre-approved by the lender is no sure-fire guarantee that you'll secure the loan in the end. The only time you can be 100% certain that your loan is good is after signing the closing papers.
When it comes to mortgage denials, there are several factors at play that you need to be aware of. Any of these could deny the loan you worked hard to secure:
1. Mortgage Denied – A New Job
This is one of the more common reasons a mortgage is denied after pre-approval. If you're eligible for a loan and you've recently changed employers, be aware that some types of mortgages require a buyer to verify employment history. For example, FHA mortgages require a buyer to provide proof of consistent employment for two years. If there are gaps in employment history, a written explanation must be submitted during the underwriting process. If the lender finds out about it before the closing, you will likely lose your loan.
If you switch jobs and there's no significant difference in pay or careers (if you're a chef, don't become a firefighter), most lenders will accept this. That said, your best bet is to tell the mortgage consultant about your potential job change before you make your decision. They may be able to predict any looming issues.
2. Mortgage Denied – A Red Flag on your Credit
Note this doesn't say, "Credit score lower than X". One of the most common misconceptions is that you need a perfect credit score to get pre-approved for a loan. A credit score in the low 600's is risky and requires a completely different set of guidelines compared to a score in the 700's, but it may be acceptable if the buyer has zero negative impacts on their credit.
Credit score guidelines differ by the type of lender and mortgage, so regardless of your credit score, you must stay on top of any negative impacts. The worst scenario is to find out about a dip in credit just days before closing. Up until the final closing date, make sure you pay your bills on time and monitor your credit score in real-time.
3.  Mortgage Denied – A New Type of Debt
Word to the wise—don't incur a new debt after being pre-approved for a loan. Your debt-to-income ratio is a critical component for receiving a loan. Accruing new debt during the mortgage application process could lead to a denied loan, so if you're heading to the car dealership for a new ride after being approved, and you require a loan, head home instead.
4.  Mortgage Denied – An Unsatisfactory Bank Appraisal
While it's not always the case, some lenders will only pre-approve a buyer on the grounds of a satisfactory bank appraisal. You shouldn't expect the appraisal process to be a walk in the park. The reality today is that appraisals can be a problem for a number of reasons:
The borrower possesses a marginal credit score or a high debt-to-income ratio
The property was a foreclosure that was flipped by an investor
The mortgage lender has specific requirements and thus demands more appraisal reviews
There are many other factors too; for example, recently an FHA mortgage did not allow for a gas station to be within a certain distance of a home, causing a mortgage to be denied.
It's critical to be in constant communication with the lender to be informed of an appraisal issue.
Tips to ensure your mortgage loan is approved for good:
What's the best way to avoid the dreaded words "mortgage denied"? It's simple, follow these best practices:
Don't take on additional lines of credit
Don't increase your debts
Don't make any large deposits into your bank account (s) without paperwork detailing its source
Don't withdraw large amounts of money from your bank account (s)
Continue to save money in the event your closing expenses are more than originally estimated
Provide all requested documentation to lender in timely fashion
For more information about RatePlug, the leading mortgage marketing platform, get in touch with us.
Executive Synopsis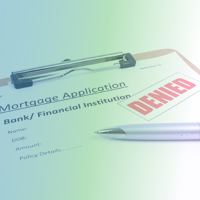 Title
Top 4 Reasons a Mortgage Gets Denied
Summary
The top 4 reasons your mortage was denied could be caused by a new job, a red flag on your credit, a new type of debt, or an unsatisfactory bank appraisal.
Author
Company
RatePlug - Mortgage Marketing Platform
Logo