Agents using RatePlug experience a 15% shorter timeframe from List Date to Contract Date
View Study Results
| | | |
| --- | --- | --- |
| | | |
| | | Easy for Agents to use. No-additional charge to participate, included in your MLS membership. (Lenders do pay to participate) |
| | | You choose your trusted lending partners to display (Up to 3 Lenders). |
| | | |
| | | NEW Agent Dashboard allows you to manage your RatePlug account, view special financing options for your listings, or post your properties on Facebook or Twitter. View Details |
| | | Compliance adherence protects you in regards to industry specific regulatory guidelines. View Details |
| | | |
---
Property Flyer System
When you list a new property in your MLS system, your lending partner has the ability to create co-branded professional flyers. Lenders across the United States have provided their Agents with more than 20,000 flyers a month through RatePlug in 2011.
RatePlug archives every flyer and property detail created in our system for 6 years in compliance with the new FTC (MAP) guidelines.
There are several templates available (ask your lender to demonstrate) or Click here to View a sample RatePlug and Property Flyer display for your listings.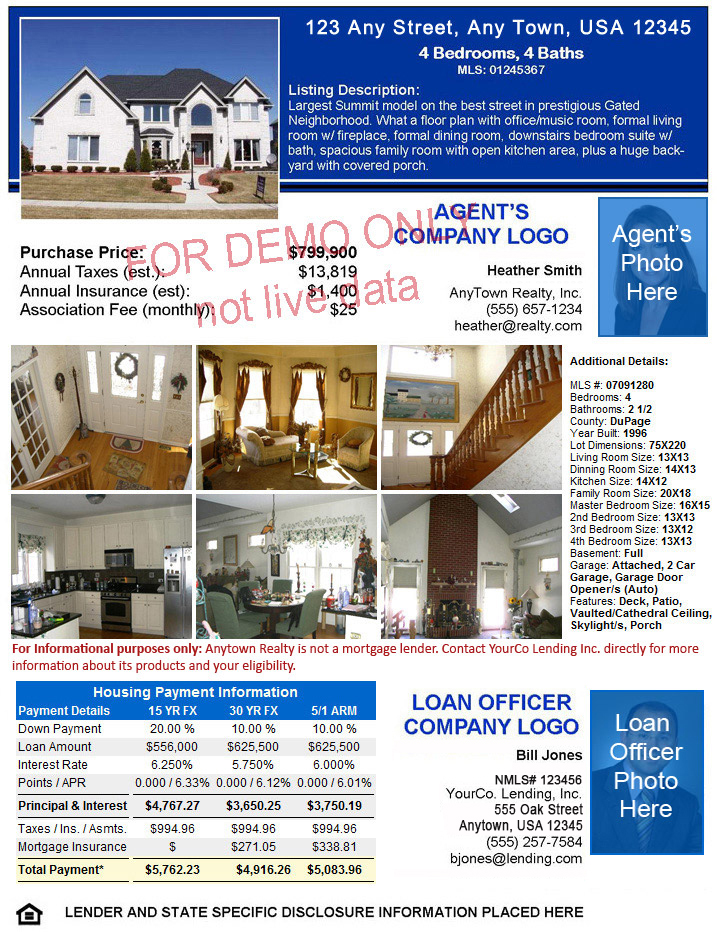 ---
RatePlug Agent Dashboard
What can you do within your Agent Dashboard?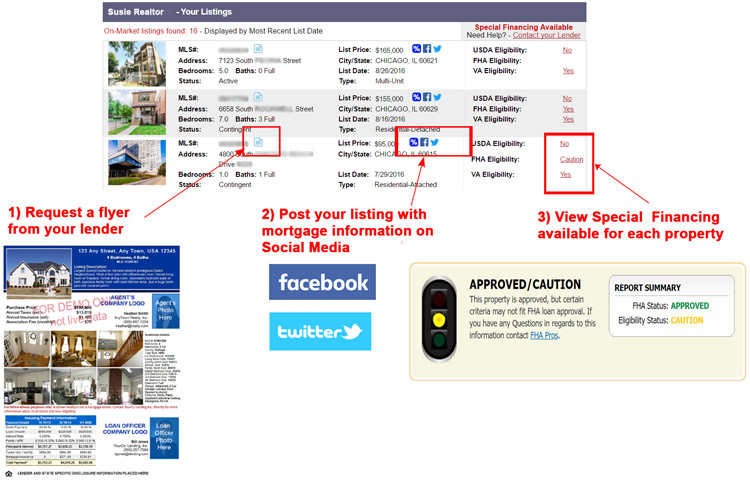 ---
RatePlug Protects you from FTC (MAP) violations
Compliance Overview:
The ever changing regulatory environment within the real estate industry has dramatically altered the way real estate and mortgage professionals evaluate new products and technologies. RatePlug continues to grow our market footprint across the Country, supporting over 600,000 agents in over 50 of the largest MLS organizations. Our list of participating banks, credit unions and lending companies now exceeds 800 entities. Each of these lending companies has evaluated and approved the RatePlug Program as compliant. In addition, RatePlug has enlisted the services of K&L Gates, the leading compliance experts in the Country to validate our Program's adherence to all regulatory guidelines.
Specific details pertaining to regulations:
RESPA-TILA: RatePlug contracts with the local MLS organization to add the RatePlug Program to their core services provided to their Agent members for which the members pay membership dues. The lender pays RatePlug a license fee to be displayed within the system. There are no fees being paid by Lenders on behalf of agents and there is no mention or criteria for leads to be contingent on affiliation. The real estate agent can display multiple lenders as well.
FTC MAP: The FTC implemented requirements regarding Mortgage advertising. The Mortgage Acts and Practices (MAP) regulations impact ALL real estate professionals offering information about mortgages to clients or customers. RatePlug has taken the following steps to protect the Broker/Agents:
Record Keeping - The regulations specify that real estate professionals are required to save all mortgage related communications for up to 6 years (RatePlug actually stores for 10 years) from the date that the communication was made available to the consumer. RatePlug archives every lender display created on property reports as well as every property flyer generated through the RatePlug system for retrieval at a later date if necessary.
Disclaimer language- RatePlug has adopted the National Association of Realtor's recommended disclaimer and has incorporated the language into all flyers generated through our Program. This disclaimer is simple and clear specifying that the Broker/Agent is not a mortgage lender and directs the customer to contact the lender directly with mortgage related inquiries.
REG Z: The foundation of the RatePlug Program was based on the aggregation and display of accurate rates, APR's, and disclaimers within our presentation layer. The participating lender inputs and controls all the rate and program information that will be displayed. Our development team has painstakingly made every effort to ensure that all REG Z guidelines are met and exceeded. Kirkpatrick & Lockhart have orally expressed that the RatePlug Program is compliant with REG Z guidelines. In addition, we receive scrutiny from each lender that participates in our Program. We have national approval from some of the largest lenders. Each Lender is able to customize all disclosure information within our system as a further safeguard.
TRID: RatePlug has added the required "Projected Payment" tables to all of our flyers and MLS displays.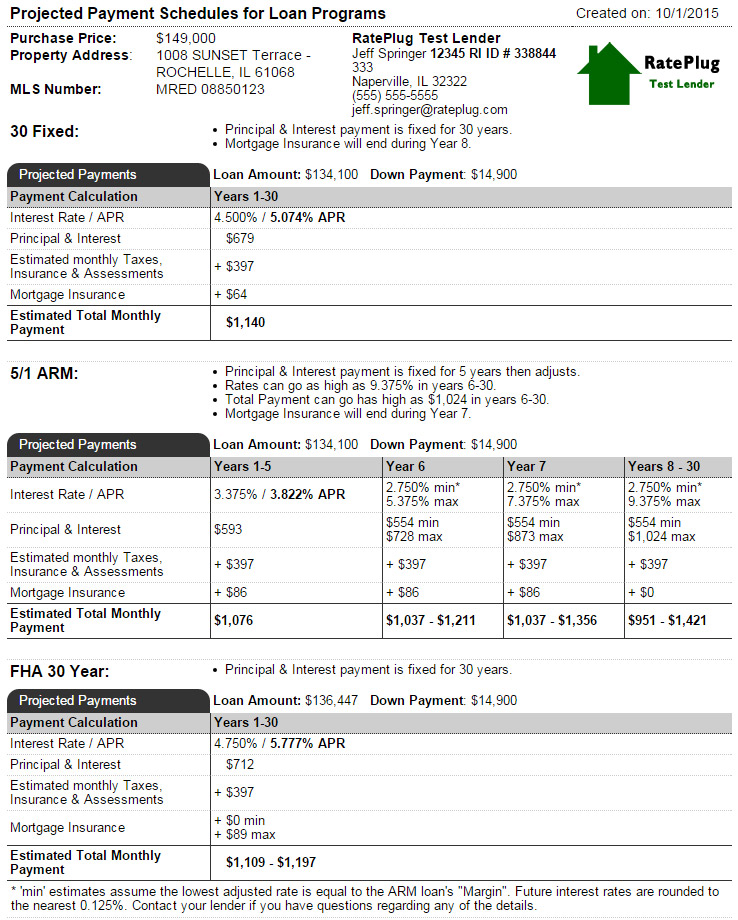 Ongoing diligence:
RatePlug's legal advisors and vast network of national lenders ensures that we are aware of the latest regulatory rulings, and our team of developers work diligently with these entities to adjust our RatePlug Program to seamlessly implement any changes that would impact our subscribers.
---
Study Results
The most recent study looked at 23,191 real estate transactions within 3 major metro areas (Timeframe for MLS Data used is from January 2015 through February 2016). The data was derived from Agents that are Active with RatePlug and Agents who are not Active with RatePlug in order to determine the Total # of Days between List date and Contract date. The data included Single Family homes, Townhomes and Condominiums.
RatePlug Study Results
23,191 Transactions Studied

# Days from List Date
To Contract Date       

Agents Using RatePlug

56 Days

Agents Not Using RatePlug

65 Days

Difference in Days

9 Days

% Difference

15%
This demonstrates an Average of 15% reduction in the transaction timeline between List Date and Contract Date for Agents that are using RatePlug system.
*There are other factors that have not been measured that could help contribute to this difference (ie: Top Agents are enrolling in RatePlug). The study included markets in Massachusetts, Virginia and Georgia.
---