| | | | | |
| --- | --- | --- | --- | --- |
| | MARIS - Mid America Regional Information Systems | | | |

Over 74% of home buyers consider the Mortgage Company referred by their Realtor - Realtor Magazine
MARIS serves the following location:
St. Louis and surrounding counties
. Learn more about this MLS by
clicking here
.
Build and strengthen your relationships with Realtors and their potential homebuyers through the RatePlug Automated Marketing Program View Details

Your mortgage products are dynamically displayed along with your

contact information within property reports your Agents send to home buyers.

View Sample Report

Property Flyer system with Auto-Alerts notifies you of new listings and open house events for your Agents and allows you to create professional co-branded flyers in a few seconds. View Details

100% compliant to FTC-MAP record keeping requirements. We store all information generated through the RatePlug System for 6 years to protect you and your Agents. View Details

Annual fee of $435 allows you to work with an unlimited # of Agents within the same MLS. (plus a one time $35 setup fee)
---
How Does RatePlug work?
RatePlug is embedded into the MLS system your Agents use to search and send property reports to your homebuyers.
When they send MLS property reports to their customers, they will now have access to accurate, interactive mortgage product and payment information specific to each property. The payment information is based on up to date interest rates that you the lender enter into RatePlug's database whenever there is a change. The payment information includes property taxes, assessments, and home owner's insurance estimations.
The customer can interact with the information and play 'what if' scenarios to best determine their financing needs. In addition, the customer is given the ability to contact you directly through your contact information, email address or website.
---
How you are displayed within the MLS
Once you enroll in RatePlug, we train you how to set up your mortgage product and rate information in our back end database. Whenever there is a market change or you would like to change products you display within RatePlug, you can make the necessary edits in a couple of minutes.
RatePlug will even remind you every week if you have not made adjustments to your rates to ensure that your current information is being displayed.
Now when your Agents send property reports to their homebuyers, the customer will have access to your contact information and mortgage products right when they are looking at properties.

The screenshot below is an example of how RatePlug will display within Matrix for MARIS Agents. The customer view may vary depending on the MLS system.
This is a live demo. RatePlug shows near the bottom of the page.
You can enter the Estimated Sales Price and Down Payment and hit calculate to see RatePlug in action.
See Report with Link Sample
***This is a sample of a RatePlug display. Rate and mortgage information below is for illustration purposes only.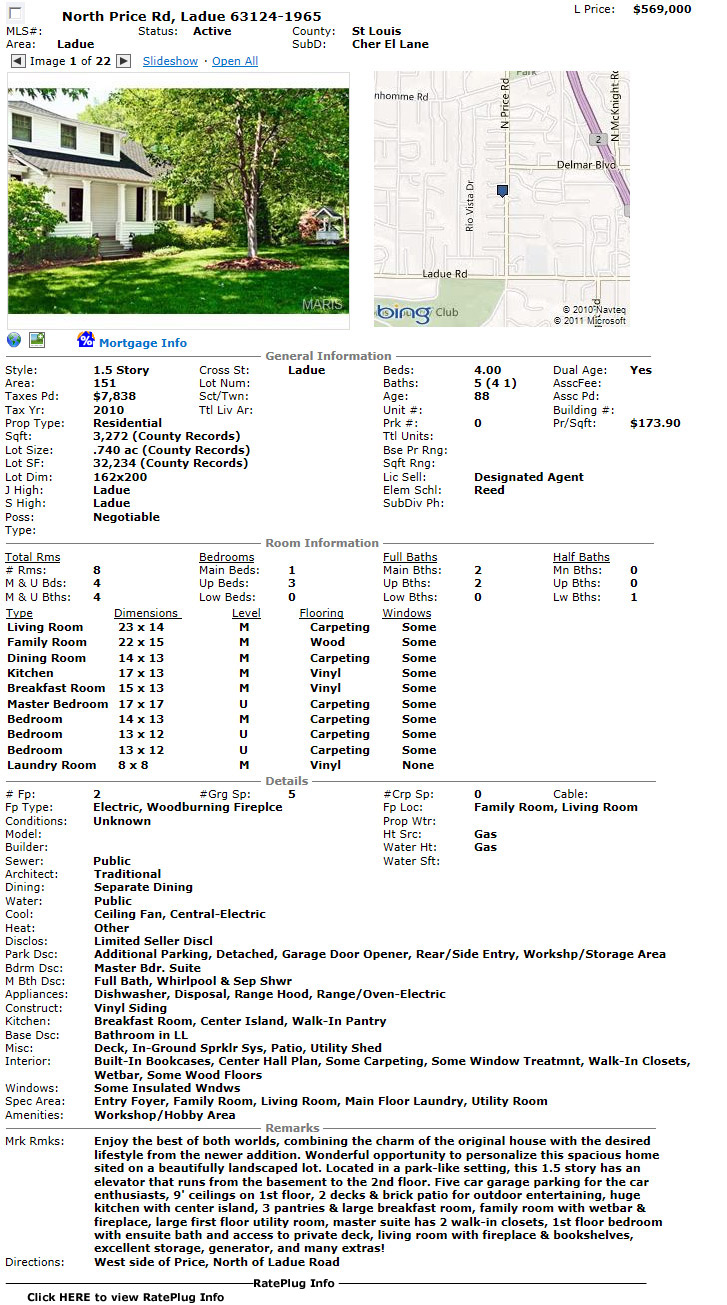 ---
RatePlug protects you from FTC (MAP) record keeping violations
The new FTC (MAP-Mortgage Acts and Practices) regulations impact ALL real estate professionals who offer information about mortgages to clients or customers. . The two key areas of concern that RatePlug has addressed to protect the Agent and the Lender are as follows:
Disclaimer language - RatePlug has adopted the National Association of Realtor's recommended disclaimer and has incorporated the language into all flyers generated through our Program. This disclaimer is simple and clear specifying that the Broker/Agent is not a mortgage lender and directs the customer to contact the lender directly with mortgage related inquiries.
Record Keeping - The new regulations specify that real estate professionals are required to save all mortgage related communications for up to 6 years from the date that the communication was made available to the consumer. RatePlug archives every lender display created through RatePlug on property reports as well as every property flyer generated through the RatePlug system for retrieval at a later date if necessary.
RatePlug provides the comfort of knowing that Lenders can continue to effectively assist their Real Estate Agents in marketing their properties without the burden or risk of being outside of the new FTC requirements.
---
Property Flyer System
When your Agents list a new property or schedule an open house event in the MLS system, you will receive an email alert from RatePlug that will allow you to create professional, co-branded property flyers in seconds to either print or email to the Agent. Lenders across the United States have provided their Agents with more than 20,000 flyers a month using RatePlug in 2011.
RatePlug archives every flyer and property detail created in our system for 6 years in compliance with the new FTC (MAP) guidelines.