| | | | | |
| --- | --- | --- | --- | --- |
| | GLVAR - Greater Las Vegas Association of REALTORS | | | |
Agents using RatePlug experience a 15% shorter timeframe from List Date to Contract Date
View Study Results

Click on the Play Button to learn more about RatePlug. Click here if you are having problems viewing the video.

This Program for Agents provides your homebuyers live, interactive mortgage payment information.

View Sample Report

Easy for Agents to use. No-additional charge to participate, included in your MLS membership. View Details (Lenders do pay to participate)

You choose your trusted lending partners to display (Up to 3 Lenders).

100% protection for FTC (MAP) Record keeping requirements.
View Details
---
How Does RatePlug work?
RatePlug is embedded into the MLS system you use to search and send property reports to your homebuyers.
When you send your MLS property reports to your customers, they will now have access to accurate, interactive mortgage product and payment information specific to each property. The payment information is based on up to date interest rates from your lender of choice and includes property taxes, assessments, and home owner's insurance estimations.
You and your customer can interact with the information and play 'what if' scenarios to best determine their financing needs. In addition, the customer is given the ability to ask mortgage questions and is provided access to your trusted lending partners contact information.

The screenshot below is an example of how RatePlug will display for your buyers within
MLXchange / Fusion
. The layout of the Property information will vary depending on the MLS system that you use to generate the report.
This is a live demo. RatePlug shows near the bottom of the page.
You can enter the Estimated Sales Price and Down Payment and hit calculate to see RatePlug in action. In addition, A sample report may be available for viewing within
MLXchange / Fusion
for all GLVAR users. Look for
'13-SFR Flyer w/Rate Plug-2'
within the property detail report choices to determine if a Sample Report is available. RatePlug can also be displayed in other Customer Reports via a link.
See Report with Link Sample
***This is a sample of a RatePlug display. Rate and mortgage information is for illustration purposes only.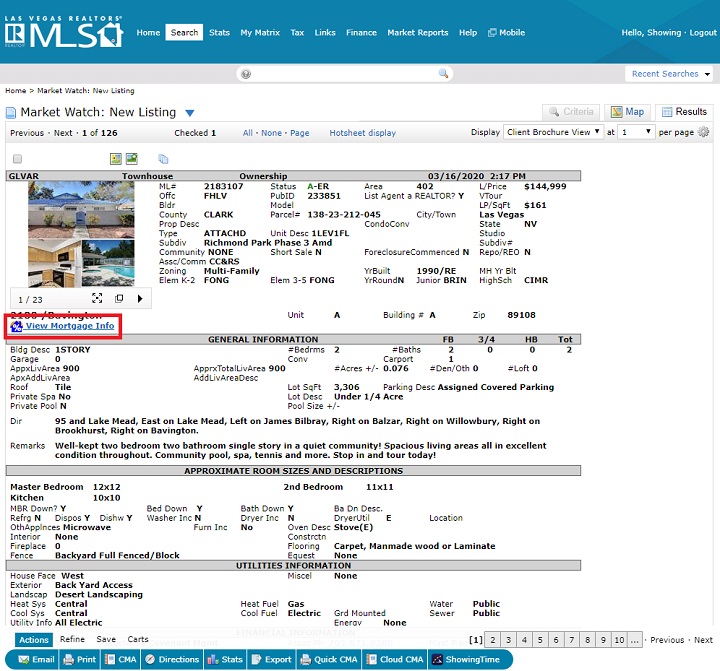 ---
RatePlug is Easy to Use
RatePlug is an automated system. You do not need to learn how to use any new software or log onto any system to participate. Once you are enrolled, a 2 minute process, your lending partner supports you, which only takes them a few minutes a day!
Your lender will make sure their mortgage products and rates are kept current, and they will also provide you with the Property Flyers for your listings or open house events. All you need to do is continue to send properties to potential homebuyers through the MLS system.
RatePlug has contracted with the MLS to provide the Program as one of the services included in your membership. There are no additional fees to participate.
Your lending partners pay a license fee to participate, but they can work with as many agents as they choose for one low annual fee. Their fee is not based on transactions or program usage.
---
Selecting Your Lending Partners
RatePlug does not display random lending companies' information like other mortgage sites do. You tell us who you would like to display, and we do the rest. We will contact your lender or lenders (you can display up to 3 lenders) to explain the benefits of the Program and guide them through the enrollment process.
Your customers have access to your trusted lenders and the services they provide, providing you peace of mind regarding the mortgage process.
---
Property Flyer System
When you list a new property in your MLS system, your lending partner has the ability to create co-branded professional flyers. Lenders across the United States have provided their Agents with more than 20,000 flyers a month through RatePlug in 2011.
RatePlug archives every flyer and property detail created in our system for 6 years in compliance with the new FTC (MAP) guidelines.
There are several templates available (ask your lender to demonstrate) or Click here to View a sample RatePlug and Property Flyer display for your listings.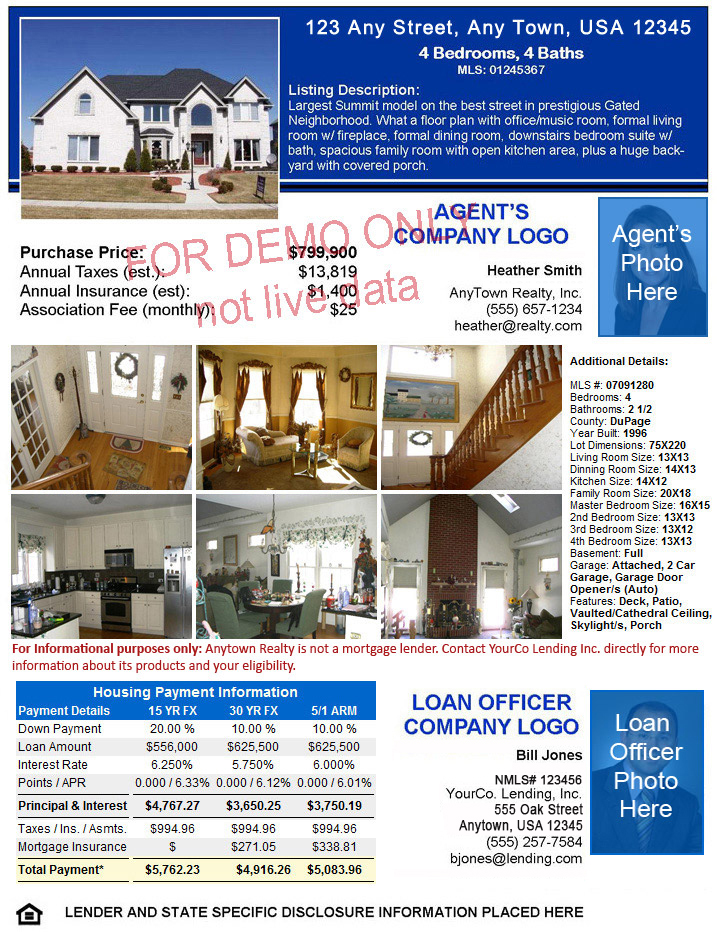 ---
RatePlug Protects you from FTC (MAP) violations
The new FTC (MAP-Mortgage Acts and Practices) regulations impact ALL real estate professionals who offer information about mortgages to clients or customers. . The two key areas of concern that RatePlug has addressed to protect the Broker/Agent are as follows:
Disclaimer language- RatePlug has adopted the National Association of Realtor's recommended disclaimer and has incorporated the language into all flyers generated through our Program. This disclaimer is simple and clear specifying that the Broker/Agent is not a mortgage lender and directs the customer to contact the lender directly with mortgage related inquiries.
Record Keeping - The new regulations specify that real estate professionals are required to save all mortgage related communications for up to 6 years from the date that the communication was made available to the consumer. RatePlug archives every lender display created on property reports as well as every property flyer generated through the RatePlug system for retrieval at a later date if necessary.
Teaming with a proven, reliable Lender that you trust is critical. It has been shown that the more knowledgeable Buyers are of their mortgage options, the smoother the transaction goes.
RatePlug provides the comfort of knowing that Agents can continue to effectively market their properties without the burden or risk of being outside of the new FTC requirements.
---
Study Results
The study looked at 177,393 real estate transactions in 7 major marketplaces in the U.S. (San Diego, Chicago, Washington DC, Maryland, Virginia, Delaware, Rhode Island). The data was derived from Agents that are Active with RatePlug and Agents who are not Active with RatePlug in order to determine the Total # of Days between List date and Contract date. The data included Single Family homes, Townhomes and Condominiums.
RatePlug Study Results
177,393 Transactions Studied

# Days from List Date
To Contract Date       

Agents Using RatePlug

51 Days

Agents Not Using RatePlug

60 Days

Difference in Days

9 Days

% Difference

15 %
This demonstrates an Average of 15 % reduction in the transaction timeline between List Date and Contract Date for Agents that are using RatePlug across 7 major marketplaces in 3 regions of the U.S.
*There are other factors that have not been measured that could help contribute to this difference (ie: Top Agents are enrolling in RatePlug).
---